At a time when e-commerce sales continue to grow, speed of delivery is gaining attention as the most important deliverable for merchants to focus on. But are order fulfillment speeds really the most influential factor for online shoppers? How does the cost of shipping compare to speed? This article examines how shifting customer expectations regarding the cost and speed at which online orders are delivered have shaped the methods by which businesses execute their e-commerce sales, marketing, and fulfillment strategies today.
Topic At-a-Glance
The Rise of E-Commerce Heightens the Importance of Effective Order Delivery: Over the past decade, market research has consistently highlighted the growing popularity of e-commerce. The latest go-to-market strategies of companies like Amazon, Target, and Walmart clearly reflect this trend. But while the rise of e-commerce is providing an opportunity for merchants of all sizes to capture new market share by promoting and selling their products online, it also brings an entirely new set of order fulfillment and delivery challenges.
How Do Customer Preferences for Faster vs Cheaper Shipping Vary? While the cost of shipping remains a top consideration for online shoppers, new studies show that the speed of delivery is more important now than it's ever been. The permeation of Millennial and Gen-Z populations into the market is a primary reason for this. However, customer preferences can vary broadly by industry, order size, and even age. So, what are today's acceptable parameters for the cost and speed of online deliveries, and how do shoppers' expectations shift on a case-by-case basis?
How Can Companies Effectively Deploy Faster & Cheaper Shipping Options for Clients? In a world where both delivery speed and cost are important to customers, businesses that sell online must be proactive in optimizing their fulfillment and delivery workflows. In order to offer the most attractive shipping options without adding internal costs, setting price floors before customers can receive free shipping, creating a subscription-based delivery service, or leveraging an on-demand fulfillment network are some of the primary methods used by businesses today.
The Rise of E-Commerce Heightens the Importance of Effective Order Fulfillment
Customer shopping preferences in 2019 are in the midst of a massive shift. This is particularly true regarding where and how buyers are purchasing goods. In 2018, a Salesforce survey of over 6,000 consumers revealed that 87% of shoppers begin their product search online, and 54% prefer to make their purchase via an e-commerce marketplace or site. And while sales at traditional brick-and-mortar stores still comprise a larger portion of total consumer spend, the growth of e-commerce sales have been overwhelming in comparison.
‍
Although the rise of e-commerce is making it easier for companies to market their products and connect with customers, it also brings a whole new wave of business challenges. In a world where shoppers can browse and compare an endless supply of products simply by clicking a button, merchants are being forced to reevaluate what ultimately drives an online customer to make a purchase.
‍
While there are a broad variety of factors to consider, two important variables that have risen to the forefront of discussions in recent years are the cost and speed of online deliveries. Based on the 2019 e-commerce strategies of the industry's largest players, it would seem that speed is what should be prioritized. This is why Amazon and Walmart are currently locked in a battle to deliver the fastest shipping experience for their online buyers, and why companies including Target and Shopify are investing heavily to streamline their own delivery models. But is expedited shipping really the ultimate e-commerce game changer? Not so fast…
‍
What Shapes Customer Preferences for Faster & Cheaper Shipping?
Although the continued drive for faster delivery is undeniably shifting customer expectations, shipping costs are still regularly ranked as the most important factor for customers that purchase products online. However, rather than focusing on the general argument of cost vs speed, it is important for businesses to recognize that there are often trade-offs between the two. That is, depending on the specific scenario, industry, or customer type, preferences for faster shipping vs cheaper shipping can shift dramatically. To exemplify this, consider the following cases:
‍
The Age of the Customer. Research consistently indicates that Millennial and Gen-Z populations care more about shipping speeds than the generations before them. And as these younger age groups increasingly penetrate the market, shipping speeds become a more important deliverable. In a 2018 e-commerce study, 36% of Gen-Z respondents named same-day delivery as a top influence in their purchasing decisions. The number was just slightly lower for Millennials. However, just 1% of Baby Boomers expected one-day delivery. Generally, older populations are much more driven by cost.
The Urgency of the Purchase. If there is any period where shipping speed is more important than cost, it's during the holiday season. Analysis of Google search volumes for "2 day shipping" and for "same day delivery" clearly exemplifies this reality. As these charts depict, 2-day shipping searches on Google spike heavily the week before Christmas, while same-day delivery searches spike before Valentine's Day and Mother's Day. In these circumstances, buyers have been proven to sacrifice shipping cost for speed, simply because they have a hard deadline for receiving their goods.
The Total Order Cost Relative to Shipping Costs. When same-day delivery was just beginning to impact the e-commerce space in 2014, McKinsey did research to determine the amount that buyers would be willing to pay to receive their purchase on the day the order was made. In a study of over 1,000 online shoppers in Europe, nearly half of respondents were willing to pay ~11% of the total purchase cost (6-7 euros for a 59-euro purchase) to receive same-day shipping. And while it has been some time since this research was published, it still sheds light on the exact trade-off point for consumers regarding speed and cost. For cheaper orders, buyers may be less willing to purchase same-day shipping (i.e. why pay $10 for the same-day delivery of a $7 bracelet?) because proportionally, the shipping costs are too high. Conversely, paying $10 to ship a $100 order seems like a better deal.
‍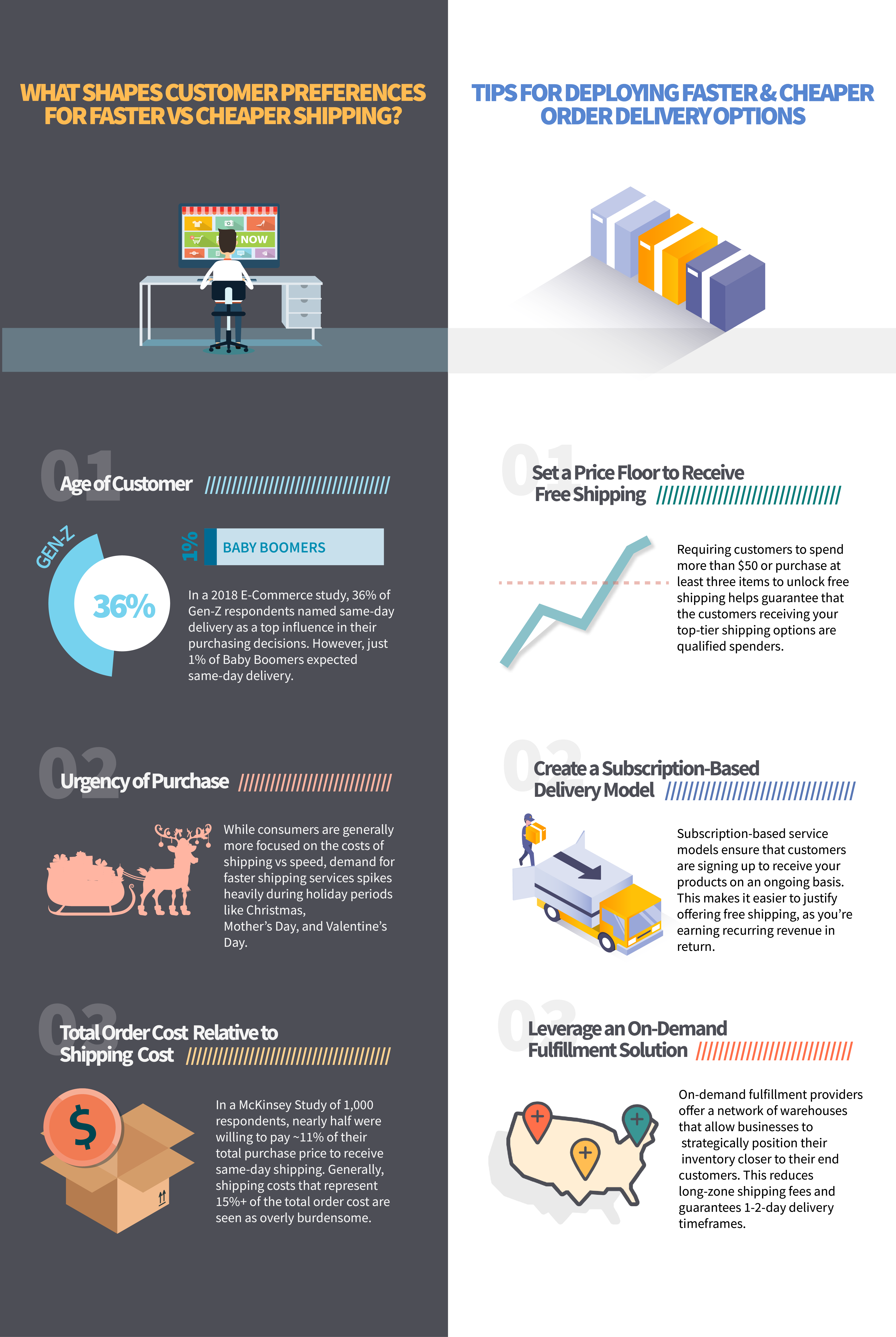 ‍
How Can Companies Deploy Both Cheap & Fast Shipping Options for Their Customers?
As the above scenarios highlight, there are circumstances where customers might prioritize the speed of delivery over cost, and vice versa. However, both speed and cost are vitally important elements of the online buying decision. But for many organizations, offering both cheap and fast delivery to everyone is not possible. After all, shipping can be expensive. That's why customers have historically had to pay extra for the luxury of faster shipping. But as customer expectations increase, expensive and cumbersome delivery options are seen huge deterrent for buyers. In fact, higher-than-expected shipping costs are the #1 reason that online shoppers will abandon their check-out carts. So, for the business that is struggling to provide more efficient delivery options to their customers, the following list highlights a range of options that might help them.
‍
‍
Create a Subscription-Based Delivery Model for Your Products. With the rise of Netflix and other subscription-based services like Dollar Shave Club, consumers have grown accepting of services they can receive on an ongoing basis that don't require them to continually swipe their card. The Dollar Shave Club is a perfect example where subscribers are provided with a monthly shipment of new razors for shaving. Users are billed monthly, but the payment is automatic. And because these customers are providing a recurring revenue source to the merchant, it becomes more feasible and justifiable to offer free and fast shipping.  Today, 51% of Millennials are enrolled in at least one subscription service, compared to just 9% of Baby Boomers.
Leverage an On-Demand Fulfillment Solution. In recent years, on-demand services like Uber and Airbnb have gained widespread popularity for their simplicity, low cost, and ease-of-use. Now, the on-demand model is becoming available for e-commerce fulfillment. On-demand fulfillment is an outsourced logistics model that works by connecting businesses with warehouses that have excess storage space available. Because warehouses are happy enough just to make use of their unfilled space, the costs for merchants to store their inventory are kept low. As a component of these services, the leading on-demand providers will offer 1-2-day shipping as a core deliverable. Over the past few years, on-demand solutions have enabled businesses like LS2, Phocus, ECR4Kids, and scores of others to achieve streamlined e-commerce fulfillment speeds at marginal cost.
‍
Final Thoughts & Next Steps
For businesses that would like more information on how to optimize the cost and speed of their e-commerce delivery options, we encourage you to contact Ware2Go. Additionally, for any company interested in evaluating the on-demand warehousing and fulfillment model and how it could apply to their business, read Gartner's latest report on the industry or schedule a meeting with Ware2Go for a more in-depth discussion.