In this new economy small to medium-sized businesses are facing challenges and levels of uncertainty they've never faced before. With rapidly changing rates of sales, inventory shortages, and shifting consumer habits, business owners are looking for ways to transform their operations in order to stay relevant to today's consumers. Ware2Go's CEO Steve Denton said in a recent interview about the effects of COVID-19 on the retail industry, "A lot of our customers who relied on traditional sales channels struggled early on because they didn't have fully optimized digital channels. Those that did have fully optimized digital channels were able to make that shift quicker." Denton identified 3 major trends that are defining this new age of commerce and ways that businesses can succeed in an ever-changing market.
He acknowledged that these shifts were already happening pre-pandemic and that quarantine measures and public safety concerns simply accelerated their progress. The gradual movement toward remote working and online shopping were catapulted into social norms, and life at home became a central focus and driving force behind consumer spending habits. As all of us adjust to "the new normal" of pandemic life, it's clear that the following trends are not only shaping the demands on today's supply chains and fulfillment but will continue to shape them well into the future.
The trend-setters — the businesses that saw these trends coming and adapted early — forged a path for businesses that are now reacting to them. These trend-setters show us that the future of supply chain and fulfillment is dynamic, versatile, and nimble. They show us that a dynamic logistics network is not forged on contracts and one-size-fits-all service agreements but on the strength and reliability of its partnerships.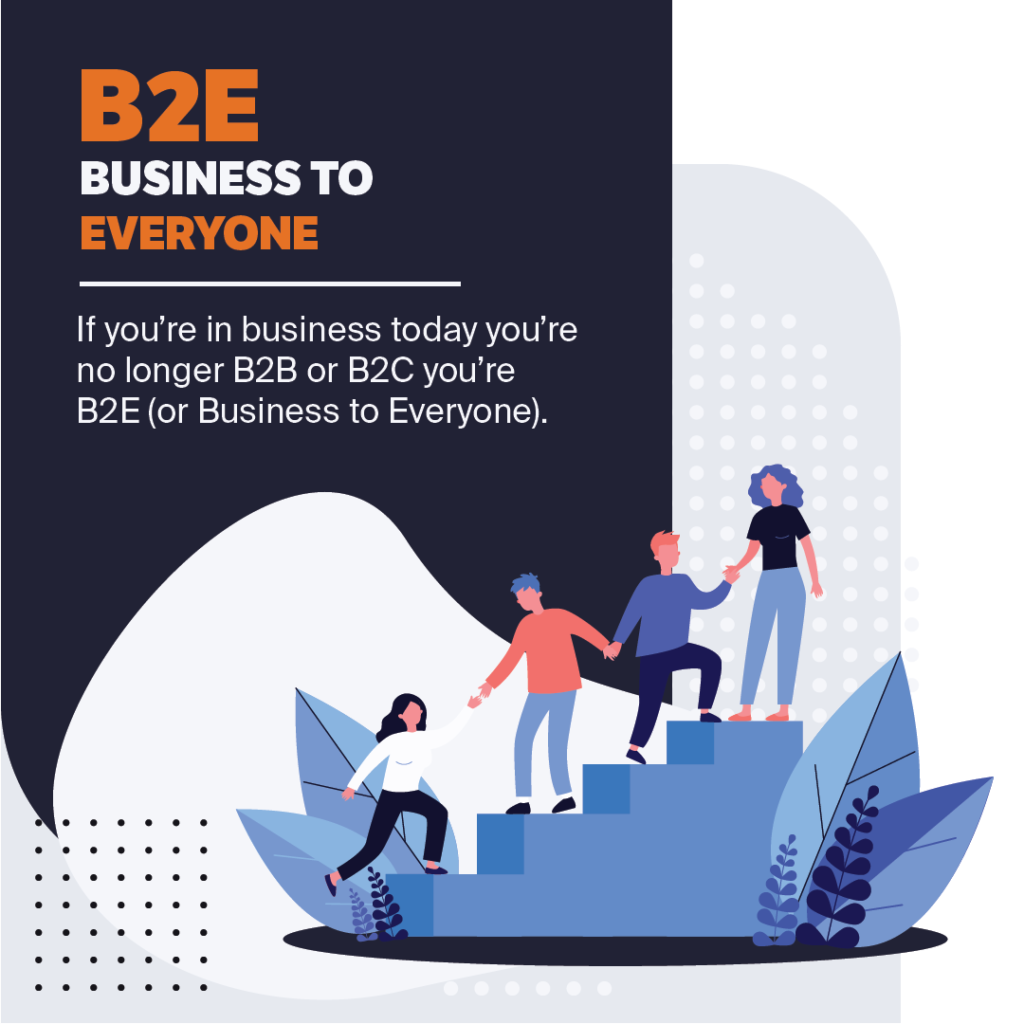 Business to Everyone (B2E)
The shifting landscape of consumer demand has thrown the long-accepted business models of B2B and B2C out the window. If you're in business today you're operating B2E (or Business to Everyone). The B2E model requires a higher level of innovation in supply chain, transportation, and fulfillment that meets customers on the sales channels where they want to be met and delivers goods when and where they want them delivered.
Gone are the days of segmented sales channels and inflexible market strategies. Today's sales must be made across all channels simultaneously, rendering legacy models of single warehouse fulfillment and 3PL partnerships obsolete. Businesses today need a fulfillment partner that can sync all of their sales channels and seamlessly fulfill LTL, small parcel, and freight shipments through one integrated omnichannel. This requires a unique combination of highly advanced technology and an extensive network of trustworthy and highly-vetted warehouse partners.
The B2E model has already been working for many businesses, demonstrating that an operational pivot is not only feasible for established B2B and B2C companies but can lead to greater growth opportunities and overall efficiency ECR4Kids saw pre-COVID that their traditional B2C model was closing them off to a significant share of the market and quickly pivoted to a B2E model by branching out to multiple eCommerce sales channels. The San Diego-based provider of children's furniture and toy equipment saw that this major shift in their business model was placing undue burden on their inhouse fulfillment operations and ultimately slowing their growth. By outsourcing their operations to a full service logistics partner they not only relieved the stress on their internal resources but  were also perfectly poised to further pivot when the market was thrown into flux by the pandemic. Their early adoption of multi-channel sales to meet customers where they were and operational efficiencies in their supply chain and fulfillment model made their business buoyant at a time when other retailers were floundering.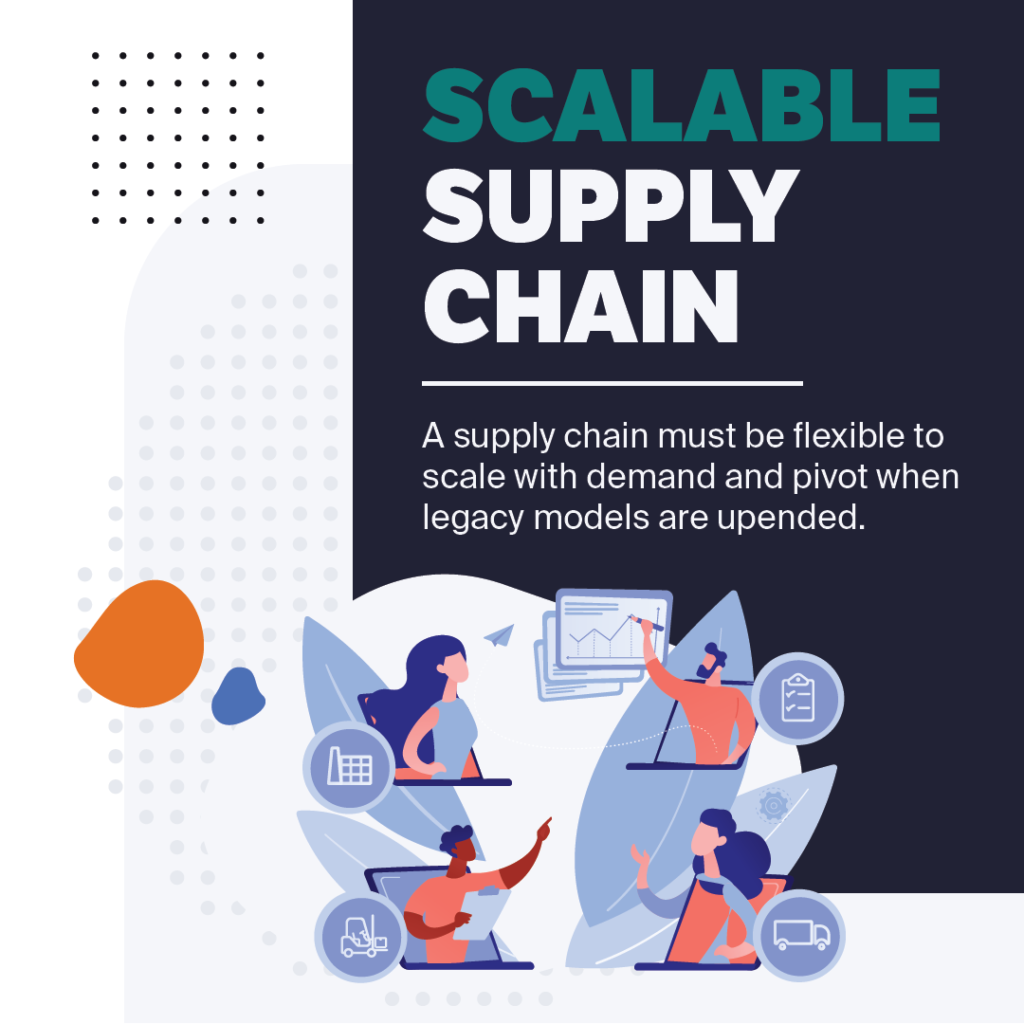 Flexibility and Scalability
In order to find footing in a volatile market, merchants and their partners must have dynamic and scalable operations, specifically in the realms of supply chain and fulfillment. Businesses seeing spikes in demand in response to the Coronavirus pandemic need to scale up their services without investing long-term resources in a short-term change in demand. Conversely, businesses seeing a temporary lull in sales need the ability to temporarily scale back their resources until sales are back in full force.
In the past, merchants had two options in the face of these kinds of short-term spikes in demand: either scale up operations and leave warehouse shelves sitting empty and depleting resources when sales lulled or overextend their inhouse resources, risking sloppy fulfillment and customer dissatisfaction. The new model of on-demand warehousing finally gives merchants a much-needed third option to compete in today's unpredictable market by offering a flexible network or warehouses that allow merchants to scale up and down warehouse partners and resources quickly and as needed, sometimes with no order minimums or long-term contracts. This is a game-changer that allows retailers to fully capitalize on spikes in demand without fear of being over-resourced if sales later return to previous levels.

Speed of Delivery and Supply Chain
Speed is and will continue to be a major differentiator for SMB's to shorten the revenue cycle and get goods into the hands of customers as quickly as possible. While 64% of shoppers reported that they have replaced trips to the store with online ordering during stay-at-home orders, this doesn't mean consumers are willing to wait longer to receive their items. It simply means that expectations for 1-2 day delivery are higher than ever, and merchants of all sizes will have to offer low-cost expedited shipping in order to compete.
1-2 day delivery may seem like an enterprise level offering, but the truth is that consumers don't differentiate between SMB's and enterprises and have the same expectation of service across the board. In fact, in a 2019 survey, 29% of consumers indicated that they had abandoned a cart at checkout when they saw that 2-day shipping wasn't offered. This trend isn't new, but just like B2E and flexibility and scalability, it was fast-tracked by the pandemic. Fortunately, a knowledgeable fulfillment partner with a nationwide network of warehouse partners can level the playing field to allow all businesses to compete with 1-2 day shipping. These partnerships allow businesses to strategically forward-stock their inventory to get closer to their customers and affordably increase speed-to-delivery.
LS2 Helmets was one such business that saw how delivery times, especially to brick and mortar stores, was hindering their growth. As the fastest growing motorcycle helmet brand in the world, they knew they had to act fast to optimize their fulfillment process. The traditional models of in-house fulfillment and 3PL partners were both cost prohibitive and inelegant. However, they found a new kind of partnership with a full service fulfillment platform that used historical sales data to help them get their products closer to their target markets.
"We wanted to give our brick and mortar retailers the ability to compete against online options and their 2-day shipping. By being able to make decisions with real-world data provided by Ware2Go, we were able to select the best location for servicing those accounts." – Phil Ammendolia, President and CEO of LS2 Americas
A New Reality
These trends may have been accelerated by COVID-19, but like many social and economic realities, they're here to stay and will continue to shape the way consumers shop and merchants do business. If you'd like to learn more about optimizing your supply chain and fulfillment to compete in this new economy, take a look at our integrated solutions. Have questions about how Ware2Go can level the playing field for your business? Reach out to one of our logistics experts.