Today, the ability for companies of all sizes to leverage a 3PL or 4PL for enhanced logistics efficiency can provide massive advantages over in-house processes. However, there are also numerous risks that can arise from outsourcing your logistics workflows, especially if the wrong provider is selected or if the level of functionality adopted is insufficient to support operations. So, for companies that need access to greater logistics capabilities but are unfamiliar with today's complex solutions landscape, the following article offers insight as to what should be focused on when selecting a provider.
Context: A Modern-Day 4PL Use Case
It was late 2018 when Duncan Schmidt, Co-Founder and CFO of CBD supplier Holistic Hound, first recognized the need to upgrade his company's warehousing and fulfillment structure.
‍
With the official release of their line of CBD dog and cat treats in 2016, Holistic Hound had experienced meteoric growth. The market for CBD products was only just beginning to form, and demand was growing exponentially. Ergo, just a few years after their launch, Holistic Hound found themselves servicing more than 1,800 wholesalers and pet stores across the nation. The company was performing above and beyond Duncan's initial expectations, and he was enthralled with their level of success.
‍
But with such rapid growth often comes an array of logistics-centric challenges, and Holistic Hound's scenario was no exception.
‍
By early 2019, Holistic Hound was shipping 40% of their products to wholesalers on the East Coast. However, with all their orders being fulfilled from a warehouse in California, it took 4-5 business days for shipments to arrive to these far-away suppliers. And as Duncan's newly founded competitors on the East Coast began offering delivery to local customers in 1-2 days, he realized he had to find a more efficient method of reaching his partners.
‍
As Duncan evaluated his warehousing and fulfillment options, it became clear that in-house expansion would not be feasible. Holistic Hound only had seven employees, and the costs of purchasing or leasing their own East Coast warehouse would be prohibitively expensive. Instead, Duncan turned his attention to outsourced fulfillment providers. And in early 2019, an evaluation of numerous "third-party logistics" (3PL) and "fourth-party logistics" (4PL) providers culminated in the selection of Ware2Go as their "on-demand" 4PL solution.‍
‍
LEARN MORE ABOUT HOLISTIC HOUND 
‍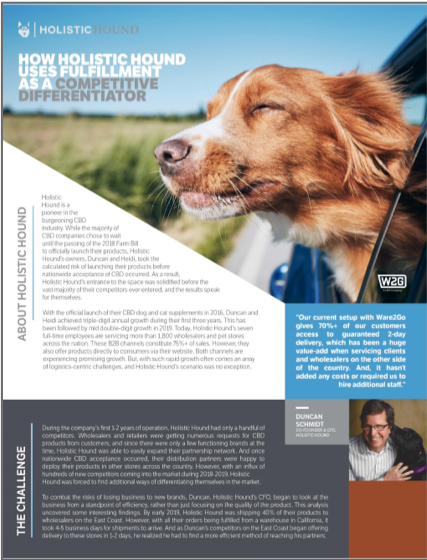 ‍
‍
With their deployment of the Ware2Go solution in March 2019, Holistic Hound was given access to a nationwide network of warehouses that enabled them to store portions of their inventory in facilities on both the East and West Coast. As new orders were captured, Ware2Go managed all pick, pack, and shipping services on Holistic Hound's behalf and guaranteed delivery for their clients within 1-2 days. And as all these operations were carried out, Duncan and Holistic Hound received comprehensive visibility to the process via Ware2Go's online warehouse management solution. This solution enabled Duncan to monitor inventory levels, inbound additional stock, upload new orders, and track a full array of logistics-related metrics across all of his in-network facilities.
‍
In essence, by deploying Ware2Go's on-demand solution, Holistic Hound had implemented a variation of the "4PL" logistics model. Holistic Hound uses their 4PL solution to completely outsource their warehousing and fulfillment workflows and achieve a greater level of distribution efficiency than what they could have accomplished with their own internal resources.
What Differentiates a 4PL from a 3PL?
As demonstrated above, a 4PL is simply an outsourced service provider that executes and manages various warehousing, inventory, fulfillment, and transportation (i.e. logistics) workflows on behalf of merchants. A 3PL is nearly the same thing, except that they manage a smaller portion of the process. The primary differences are as follows:
‍
Storage Capacity & Delivery Footprint. A 4PL's warehouse network typically consists of dozens to even thousands of warehouses and will span across a large geographical footprint (such as the entire U.S.), which means they can effectively service a broad swathe of merchants' customer bases with 1-2-day order delivery. Alternatively, it is common for 3PLs to only service a particular region (such as the Southeastern U.S.) with networks consisting of 1-10 warehouses.
Financial & Operational Scalability. With "on-demand" 4PLs, merchants can pick and choose the exact level of service they need, and the 4PL will tailor their price points to match these requirements. Contracts are dealt with on a month-by-month basis, and the use of the solution can be scaled up or down with relative ease. With 3PLs, merchants must usually adhere to 1-2-year contracts that place stricter parameters on the allotted storage space and volume of orders that can be fulfilled.
Integrated Technology. 4PLs will typically provide some sort of online or SaaS-based warehouse management solution (WMS) to merchants in conjunction with their managed services so that business leaders can maintain visibility and run analysis on the operations occurring across their various facilities. These solutions will also integrate with e-commerce platforms like Shopify or WooCommerce and ERPs like Oracle or SAP for automated reporting. 3PLs rarely provide this type of technology component.
Professional Support. Today's leading 4PLs will offer a customer service structure that goes beyond basic support and will provide strategic advice to merchants for purposes of optimizing their inventory and distribution management. Alternatively, the support available via traditional 3PLs is usually limited to answering basic inquiries and addressing day-to-day operational issues.
‍
3PL & 4PL SERVICE-LEVEL DIFFERENCES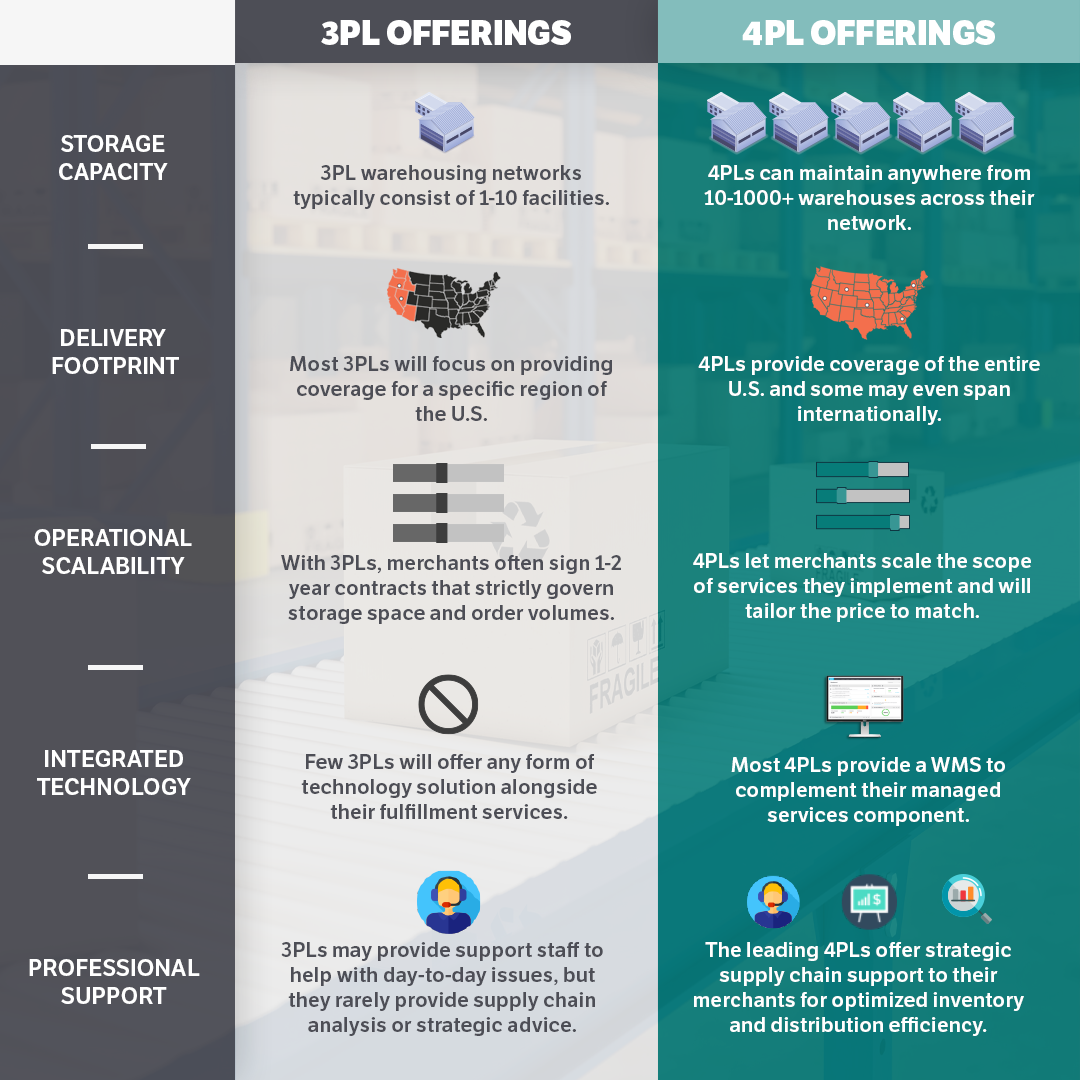 ‍
Aside from the above variations, the functionality provided by 3PLs and 4PLs is essentially the same. Depending on the scenario, 3PLs and 4PLs (hereafter referred to as "logistics providers") may manage the entirety of an organization's logistics-related workflows, or only manage a specific segment, such as the storage and distribution for a specific product, time of year, or geographic location.
‍
Even though 4PLs provide a larger portfolio of functionality to merchants and enterprises, 3PLs are typically grouped into the same bucket by businesses as they evaluate the landscape. This is because the additional services afforded by 4PLs often seem inconsequential or ancillary at first glance. However, as customer expectations and market conditions increasingly require a pronounced degree of efficiency from businesses' supply chains, these add-on services can prove essential for sustained growth.
‍
But even for 4PL users, the outsourcing of logistics services does not automatically result in a flawless process.
‍
5 Questions to Ask When Selecting an Outsourced Logistics Provider.
Although today's 3PLs and 4PLs are undoubtedly providing a higher level of supply chain efficiency for companies that lack the resources or expertise to manage their own internal workflows, there are still challenges and risks that can arise. Given the broad variety of service structures on the market today, the implementation of the wrong type of provider or the improper configuration of a solution during setup can actually lead to more inefficiencies and have a severe impact on the quality of service. It can also result in excessive costs if more functionality is purchased than what is needed, or if the contract signed with the provider requires a level of usage beyond what is necessary for the merchant (as often is the case for seasonal businesses).
‍
So then, for companies that could benefit from leveraging an outsourced logistics provider but are relatively unfamiliar with today's complex solutions landscape, what is the quickest and most effective way to weed through the sea of providers and identify the "best-fit" solution?
‍
For merchants in this circumstance, the following five questions offer clarity into the key factors that should be considered.
‍
1. What Specific Warehousing & Fulfillment Services Are Offered? While this might seem like a vague consideration to start with, take a step back and evaluate some of the more specific criteria your company requires from their logistics provider. Do you have refrigerated or perishable goods that need to be stored in specialized facilities? How about delicate or fragile items that can easily break? Do your orders require any specialized kitting workflows or require that different types of items be packaged together? And, how much inventory space will you need and how will these capacity requirements shift throughout the year?
‍
As it stands today, very few logistics providers can offer refrigerated warehousing and transportation or accommodate specialized kitting requests, which is exactly why identifying the specific workflows each provider can cover is so important. Once you're able to pinpoint the exact type of warehousing and fulfillment services you'll need access too, pressing for detailed feedback from each potential provider in this manner will differentiate those that can effectively meet your requirements from those that are an insufficient fit.
‍
2. How Comprehensive is the Warehousing Network & How Fast Can Orders Be Delivered? Just as you press to determine the scope of services offered by each potential provider, it is equally important to determine the expanse of their coverage from a geographic perspective. That is, you must ensure that each region or location you have customers in can be effectively serviced by the provider without requiring expensive "long-zone" shipments, many of which can take as long as 4-5 days to be delivered. Across the full range of logistics providers, the scope of each network varies broadly. Some networks may consist of only 2-3 warehouses and cover just a small subset of the U.S., while others may consist of thousands of warehouses and offer a nationwide or even international presence. Similarly, some providers might guarantee 1-2-day delivery for 99%+ of the nation, while others might only offer expedited shipping to specific cities or sub-regions.
‍
With these factors in mind, determining where in the U.S. or world you will need to ship products too and understanding how quickly you will need these products to arrive to customers is imperative for selecting the right provider.
‍
ANALYSIS OF STRATEGIC 4PL DISTRIBUTION COVERAGE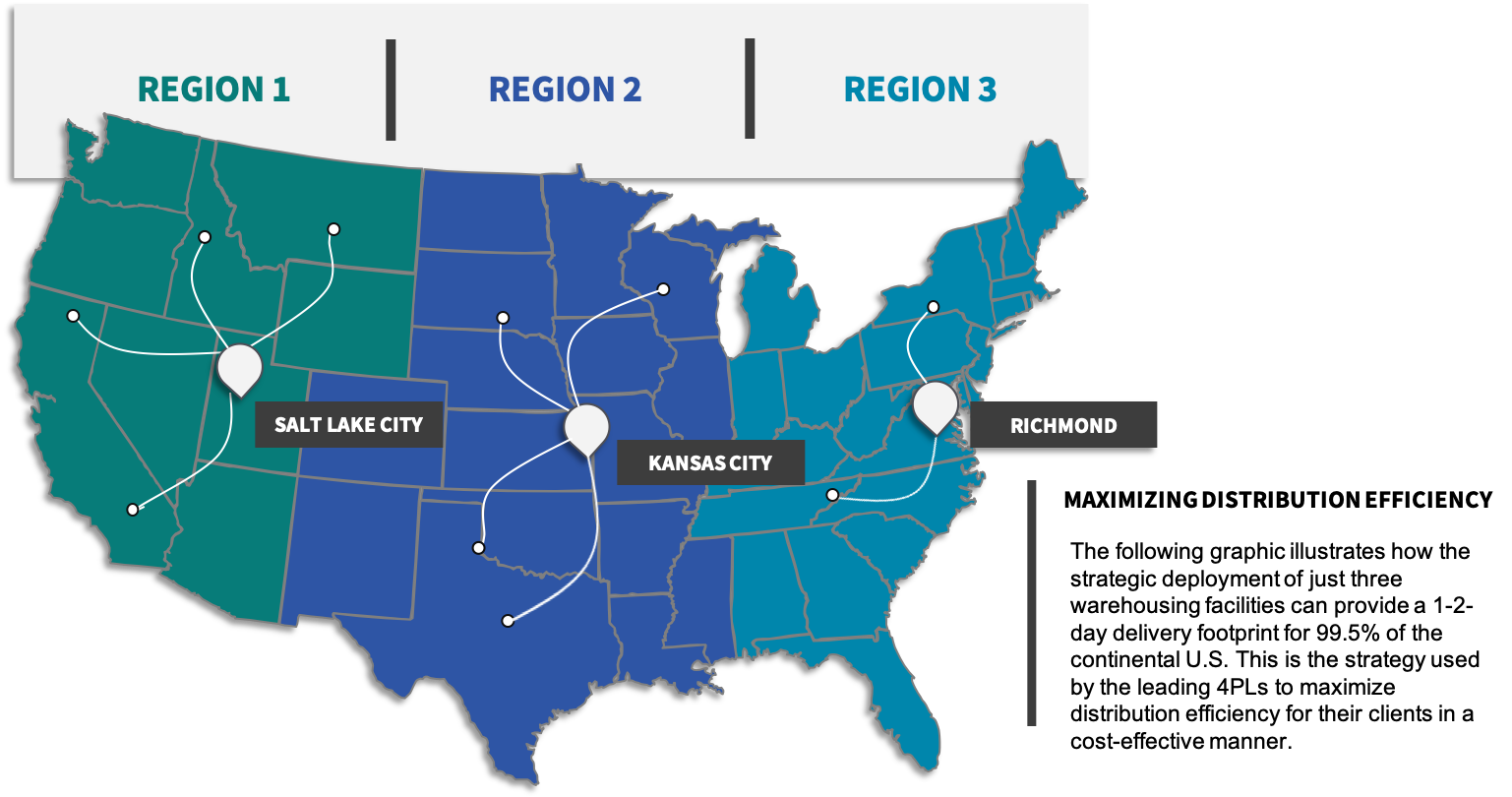 3. What Are the Costs of Using Each Respective Service, & What is the Breakdown of Fixed vs Varied? Today, virtually every logistics provider operates off an internal "rate card" that classifies and categorizes the fees associated with each step in the warehousing and fulfillment process (i.e. storage, picking, packing, and delivery). There may also be a subscription-based fee associated with accessing certain 4PL providers' technology and customer support teams. Generally, these costs will vary depending on the amount of stock you choose to maintain at a provider's facilities, the volume of new orders you require fulfillment for, the size and weight of your products, and finally, the transportation methods and locations of your end customers.
‍
As you evaluate the unique pricing of each service, be sure to evaluate the costs based on your projected order volumes and stock requirements. Press for a complete picture of pricing, then input your forecasted sales, inventory turnover, and customer footprint for the next year. Compare the expected costs for each solution and push each provider to determine if there are any incentives or discounts that can reduce the pricing in certain areas (i.e. some providers may offer delivery discounts for bulk shipments, or storage discounts for businesses that maintain stock above a certain threshold).
‍
As a final note on pricing, it's important to understand that the contractual arrangements for each provider can also vary widely. Traditionally, most 3PLs will require a 1-2-year contract for the use of their services that includes pre-specified parameters on how much inventory can be stored throughout the year and how many new orders can be fulfilled within given timeframes. However, many of the newer providers, particularly in the 4PL space, are shifting towards the use of monthly contracts that allow broader flexibility for scaling storage capacity and fulfillment workflows up or down throughout the year in-line with shifting customer demand. Given that these flexible contracts allow merchants to maintain more control over how and when they leverage the provider's services, businesses with heavily seasonal demand cycles or that want to test their provider's efficacy before investing further should consider a solution that affords this level of scalability.
‍
4. What Level of Warehouse Operations & Customer Support Can Be Expected? Given that you'll be letting a 3rd party manage your inventory and own the process of packing shipments and delivering orders to customers, the level of customer service they're able to provide is an incredibly important factor to evaluate. As you consider each provider, taking an in-depth look at the warehouses you'll be accessing and asking for tours of the facilities will give you a good impression of how their network is managed. These inspections can be very telling about the quality of service you'll be provided with, as warehouses that are unkempt and disorganized will likely make more errors when packaging goods and will more frequently deliver damaged items. If left unchecked, these issues can compound over time and significantly damage your reputation with customers.
‍
However, looking beyond the quality of service provided by the warehouses themselves, there is also a need for you to be evaluating the customer support teams that will be managing your day-to-day inquiries. For instance, if you have a question about the operations at a particular facility, need help with some aspect of the technology, need to track a return or outbound shipment, etc… how long does it take you to receive a reply from your representative? Are they able to provide you with immediate assistance, or is your query backlogged?
‍
Given that some providers maintain inadequate ratios of support staff and others might employ personnel that have very limited experience in the logistics field, pressing for insight on how the client support function operates can allow you to identify significant operational and service-level gaps. For this reason, you should actively strive to understand the level of support you'll receive and test the consistency and thoroughness of communication before you sign a contract. This due diligence should include numerous discussions with the representative(s) that will be expected to service you, as well as consultations (if possible) with current clients of each provider.
‍
5. Does the Provider Have a Technology Solution, What Does it Include, & How Effectively Does It Integrate?Looking beyond the "managed services" component of 3PLs, there is often a technology component associated with the use of a 4PL service. This technology piece is typically provided in the form of an online warehouse management solution (WMS).
‍
Generally, the WMS offered by a 4PL will enable merchants to track the levels of inventory maintained across each of their warehouses (daily or in real-time) and allow them to monitor outstanding fulfillment requests and orders in-transit. The solution should also provide merchants with options for inbounding more inventory as stock is depleted and allow them to upload customer orders from all of their order management systems (such as Shopify, WooCommerce, Magento, or Amazon). And finally, these solutions should allow merchants to track metrics related to the accuracy, speed, and overall efficiency of their 4PL's fulfillment workflows (such as how many orders arrive on time, how many were damaged in transit, or how many were packed inaccurately within a given timeframe).
‍
‍LEARN MORE ABOUT WARE2GO'S WMS BY SCHEDULING A DEMO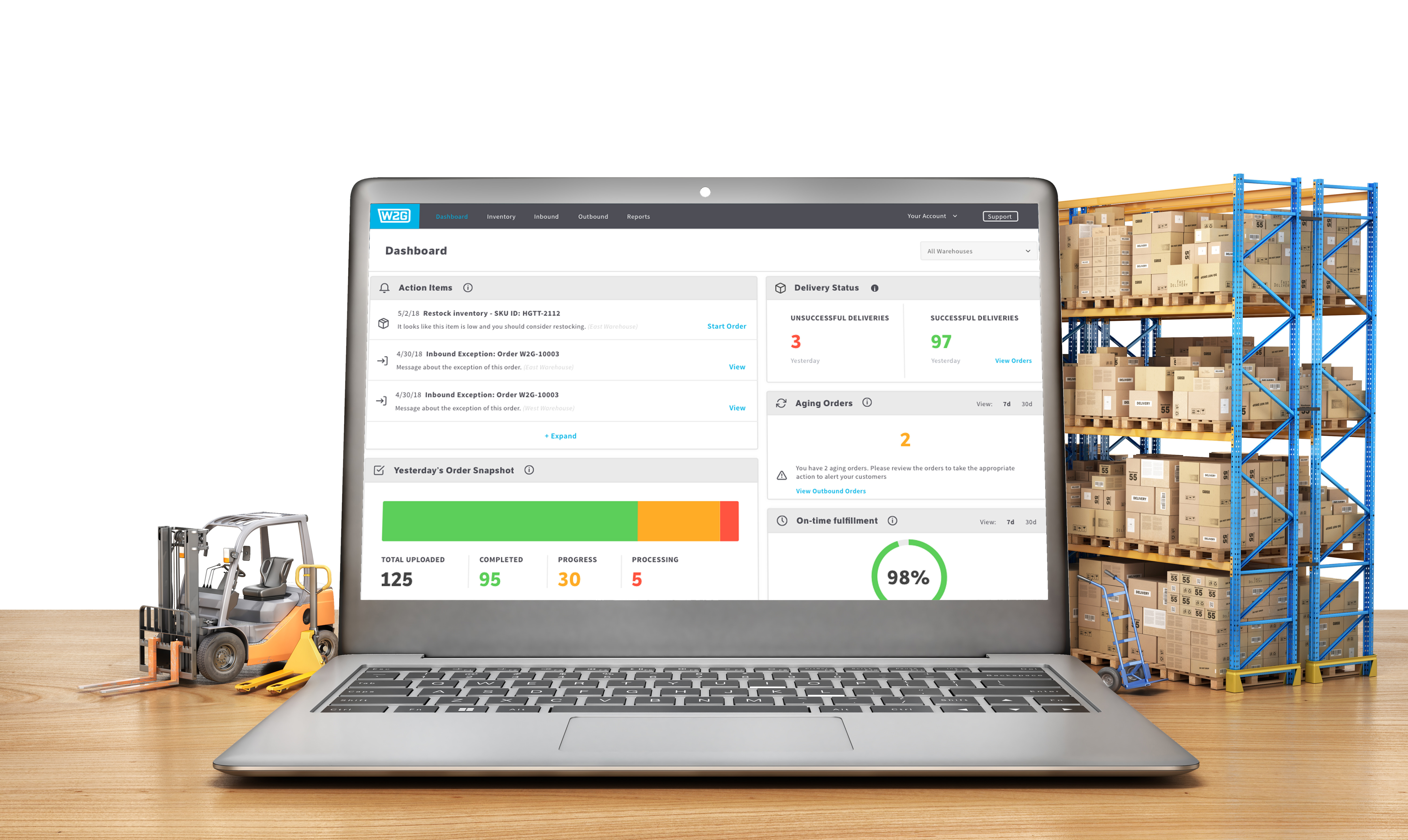 ‍
As merchants evaluate the technology solution offered by each 4PL, there are a number of differentiating factors to consider. For instance, can the solution integrate with the e-commerce platforms you use internally? How about ERPs like SAP or Oracle? If so, how are these integrations managed? How many users can access the solution at once, and are there additional fees associated with registering multiple users? Is the 4PL's customer support team properly equipped to assist merchants with technology-related issues, or is there a separate IT support team that must be contacted?
‍
Given that the technology component of the 4PL will be how merchants monitor the efficiency and overall quality of their fulfillment process, it is recommended that business leaders request a demo of the platform and work to understand the extent of integrations offered through it as part of their request-for-proposal (RFP). Any 4PL that cannot provide an acceptable amount of transparency to their solution should be regarded cautiously, as it might mean there are issues with the system that they are attempting to cover up.
‍
Final Thoughts.
As the e-commerce landscape continues to evolve and as shoppers increasingly expect a faster, cheaper, and more transparent shopping experience, businesses that cannot provide an advanced level of distribution efficiency are at a significant disadvantage. But for companies that lack the resources, bandwidth, or expertise to upgrade their internal warehousing and fulfillment processes, the 3PL and 4PL landscape provides the perfect opportunity to outsource some or all of these workflows to specialists. Just remember that given the broad degree of diversity that exists within the space, businesses must work to identify the providers that can deliver the exact type of functionality they require, at a price point that matches their budget.
‍
For more information on how to conduct your 3PL or 4PL search or for clarification on any of the points discussed in this article, we encourage you to contact a Ware2Go representative.
‍