In recent years, Amazon's same-day and next-day delivery services have set the standard for all other businesses that sell online. As a result, other e-commerce and logistics providers are under pressure to develop and upgrade their own distribution networks to keep pace. But as new providers enter the e-commerce fulfillment landscape and look to duplicate what Amazon has established, many of the solutions have focused specifically on small businesses. Why is this?
E-Commerce Fulfillment Becomes Mainstream
When Amazon first introduced their "Fulfillment by Amazon" (FBA) program in 2006, it's impossible to know whether they fully recognized the growth prospects of the market they were walking into. Ironically, Amazon's owner Jeff Bezos has joked about the difficulties of packing and shipping orders from his home-office during Amazon's early years. In the mid- to late- 90s, in-house fulfillment represented a massive challenge for his small team of employees.
‍
But what a difference 20 years can make. Fast forward to today, and Amazon is one of the largest and most dominant players in a rapidly growing e-commerce market. And in large part, it is the popularity of their fulfillment and delivery options that has facilitated this growth.
‍
In recent years, Amazon's same-day and next-day delivery capabilities have set the standard for all other businesses that sell products online. With over 84% of Amazon's top-selling merchants choosing to leverage their FBA service, competitors like Shopify, eBay, Walmart, and even shipping providers like UPS and FedEx are under pressure to upgrade their own distribution networks to keep pace.
‍
But as new providers enter the e-commerce fulfillment landscape and look to duplicate what Amazon has established, many of the solutions have focused specifically on small businesses. Why is this?
What Makes E-Commerce Fulfillment So Difficult for SMBs?
As opposed to brick and mortar sales where a customer walks away with their product the second they pay for it, e-commerce sales require an additional step; merchants must ship the purchased product to the customer. And although this sounds simple enough, for smaller merchants that lack any dedicated logistics department, dealing with high shipment volumes or complex (heavy or bulky) products and having to personally pick, pack, and ship every new order can quickly become overwhelming.
‍
According to data from the U.S. Small Business Administration (SBA), there were 30.2 million small businesses registered within the U.S. during 2018. Collectively, these small businesses represented more than 99% of all companies in the U.S. But with only 59 million staff members across this group, the average number of personnel per small business is less than two. In fact, most small businesses are operated by just a single employee.
‍
For businesses of this size that manage fulfillment in-house, packing and shipping orders can take 30-50% of an employee's day-to-day focus and prevent staff from having time to concentrate on more strategic tasks. And, with all orders typically shipped out of a single location, it may still take 4-5 days for products to arrive to customers.
‍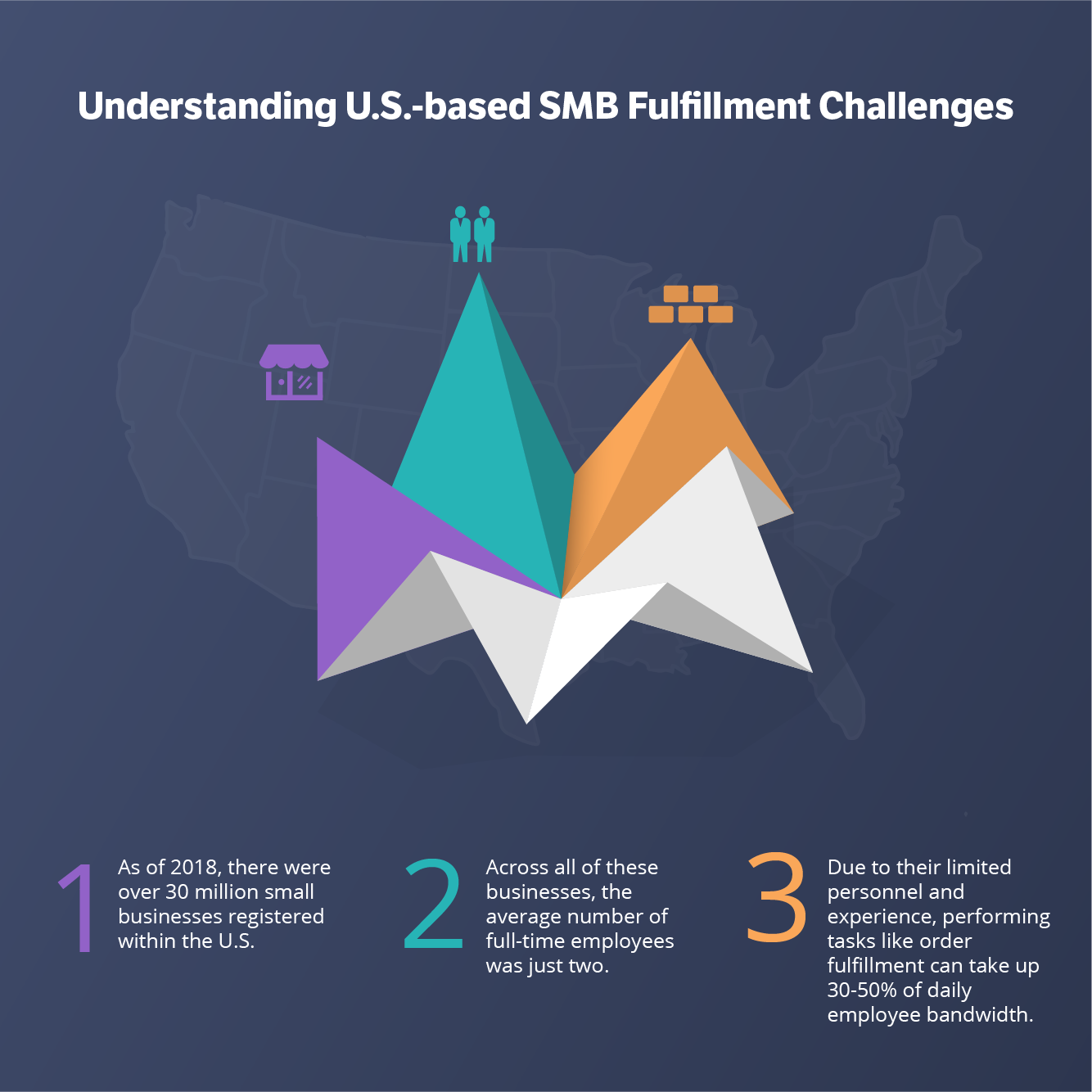 But in an environment where customer expectations for shipping and delivery keep rising, this lack of distribution efficiency can have major repercussions.
‍
How Does a Lack of Fulfillment Efficiency Impact Small Businesses?
Although industries still dominated by older generations (i.e. Baby Boomers) aren't as impacted by heightened preferences for shipping speeds, the expectations of younger generations are more demanding. In fact, a 2018 study determined that ~35% of Millennials and Gen-Z shoppers see same-day delivery as a top influencer in their purchase decisions. And in a 2019 UPS study, 82% of 17-24 year-olds were open to paying more for accelerated delivery.
‍
The problem?
‍
The ability to cost-effectively ship orders in 1-2 days requires access to a nationwide distribution network that few small businesses can establish or maintain themselves. Today, the costs of purchasing their own warehouses or leveraging a traditional "3pl" are too exorbitant for SMBs. Instead, many small businesses must continue to rely on just a few in-house staff and outdated equipment to ship orders directly out of a single office or storage facility. But as order volumes grow, these businesses struggle to find scalable fulfillment solutions that can accommodate them.
‍
However, this is the challenge that Amazon, eBay, Shopify, and a host of other new fulfillment providers are now looking to solve.
‍
How is the Fulfillment Landscape Evolving to Address SMB Needs?
Although most businesses are familiar with Amazon and the FBA fulfillment service they offer, there are a host of other providers introducing similar solutions. While many of these providers are e-commerce platforms or marketplaces looking to duplicate Amazon's model, there are also traditional shipping and logistics providers beginning to operate within the same sphere.
‍
In June 2019, Shopify announced the development of an in-house fulfillment network available for merchants (mainly SMBs) that use their e-commerce platform. Shortly thereafter, eBay announced the formation of their own fulfillment network to address the same need. These announcements come at the same time that shipping providers like UPS are introducing "on-demand" SMB-focused fulfillment networks that provide streamlined warehousing and fulfillment solutions. And just very recently, Walmart introduced plans to create their own "Fulfilled by Walmart" offering to directly compete with Amazon's service.
‍
‍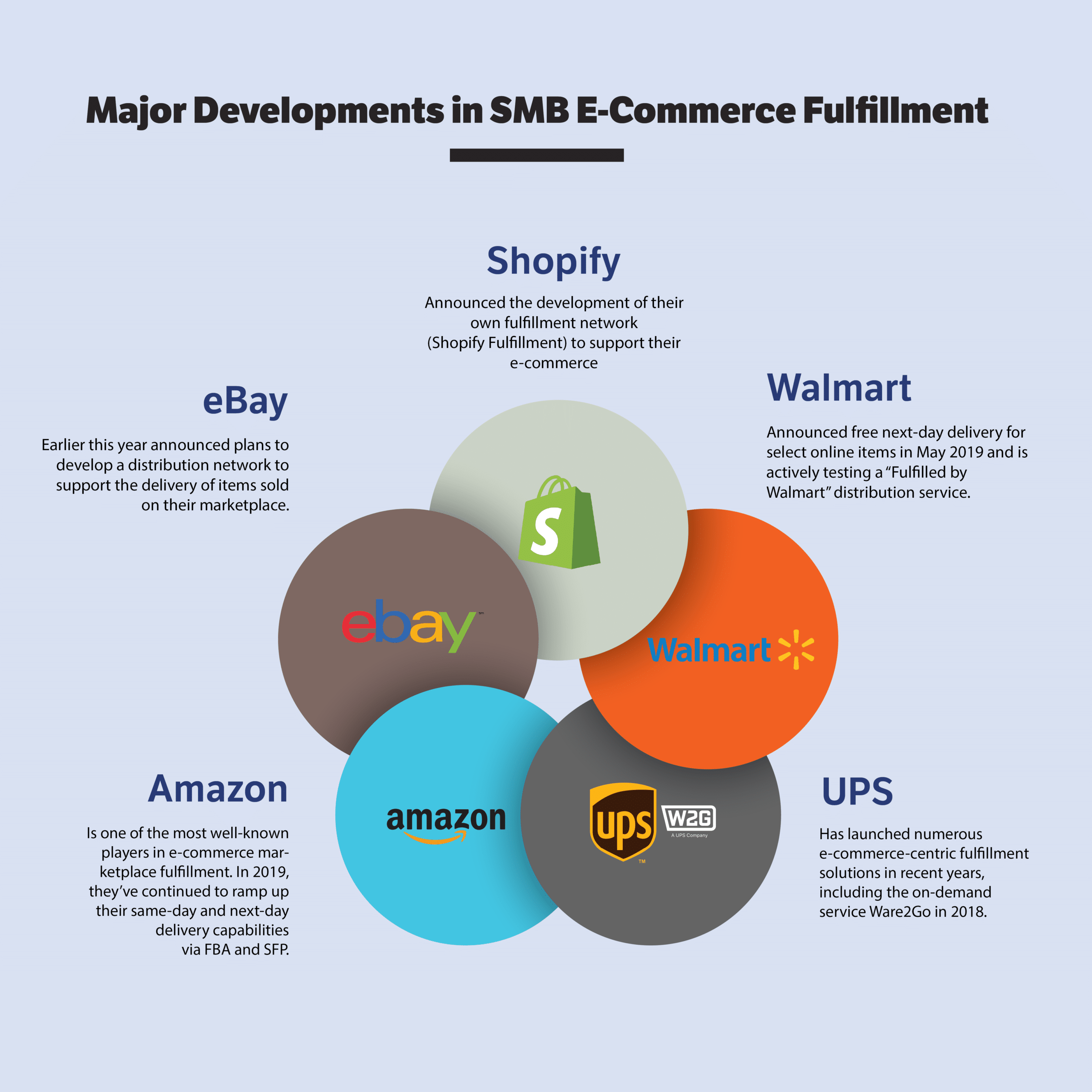 Essentially, all of these fulfillment providers are looking to create nationwide distribution networks (consisting of anywhere from 10-1,000+ warehouses) that guarantee 1-2-day shipping speeds for e-commerce buyers, and they allow merchants to access portions of this warehouse space to store inventory as close as possible to their end customers. They then manage all pick, pack, and shipping services on the merchants' behalf.
‍
In practice, SMBs save time and money by not having to purchase their own warehouses or manage the fulfillment process internally, and the provider makes money because they can collectively service hundreds, if not thousands, of smaller merchants through a single network.
‍
So then, if you're a small business that sells online and needs access to a more advanced distribution network beyond what in-house operations can provide, what options are available to you?
‍
E-Commerce Marketplace / Platform Fulfillment. E-commerce facilitators like Amazon, Shopify, eBay, and Walmart allow businesses to store the inventory they sell online at distribution centers owned by the e-commerce provider, who then manage all fulfillment workflows on the merchants' behalf. These offerings operate exclusively for inventory sold on each provider's respective site.
On-Demand Warehousing. On-demand networks like Ware2Go provide a network of warehouses across the country that SMBs can use to store inventory closer to customers. The on-demand provider manages all pick, pack, and shipping services for the SMBs and guarantee shipping within 1-2 days for their customers. These offerings are typically site-agnostic, meaning merchants can use the provider to store and fulfill orders occurring across any e-commerce marketplace or platform.
‍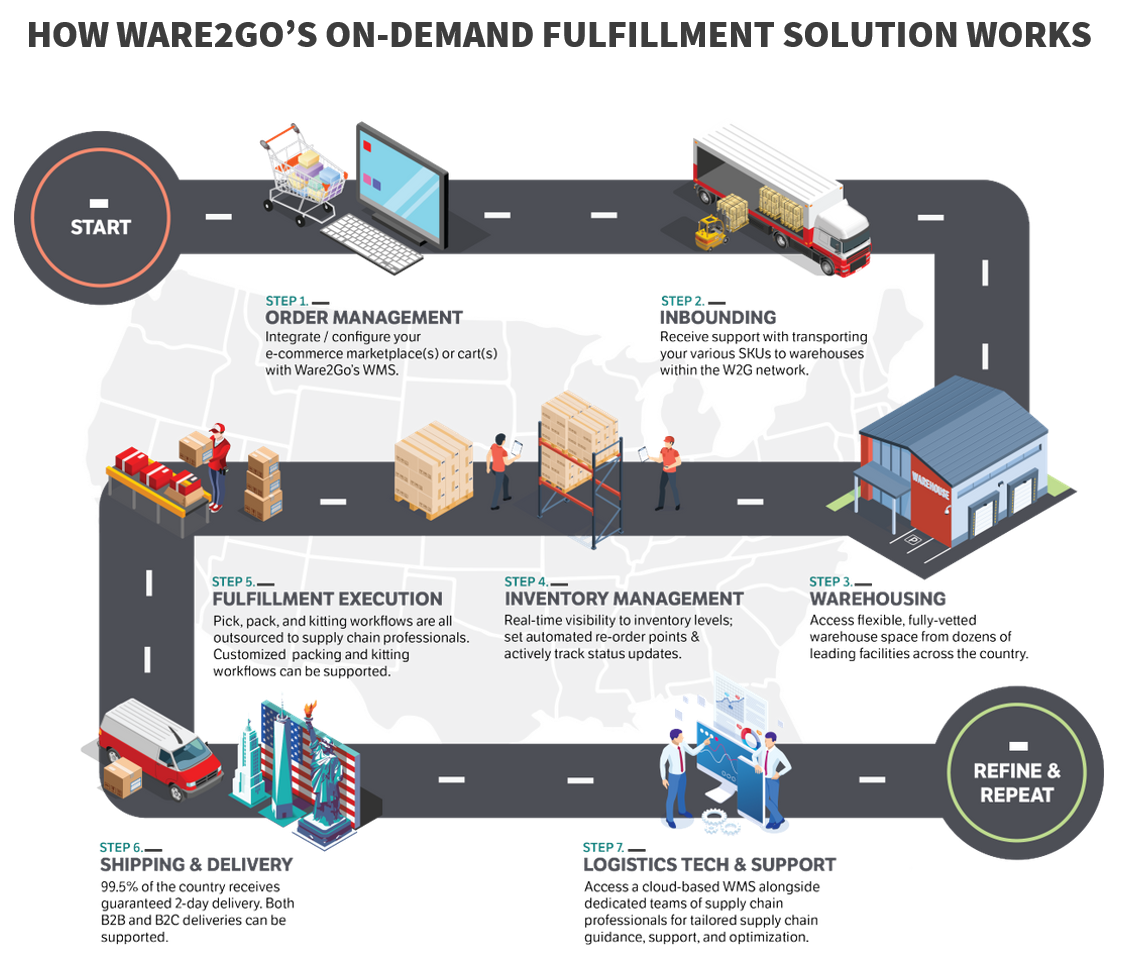 ‍
Drop Shipping. Drop shipping is a fulfillment method where a merchant never keeps any of their inventory in stock themselves. Instead, when a customer purchases a product, the merchant buys the product from a 3rd party supplier who then ships it directly to the end customer. Today, drop shippers can be deployed directly through Shopify's application network or via a range of other channels. Offerings exist that are tied to both individual marketplaces, and that are site-agnostic.
‍
Final Thoughts
For SMBs that sell online, getting products delivered to the end customer can be an expensive and time-consuming task. But as a growing number of providers look to service this unique challenge, there are now more opportunities for businesses to maximize their distribution efficiency than at any other point in history. So, for any SMB that is challenged by in-house fulfillment, we encourage you to evaluate the above options to see how accessing a specialized distribution network could help improve your delivery speeds without adding significant costs. For more information on how on-demand warehousing could benefit your business, connect with us at Ware2Go!